All things Melbourne. The ultimate list. A to Z.
+ A
AFL Game at the Melbourne Cricket Ground
Australian Football League at the Melbourne Cricket Ground (also known as the MCG, or simply just The G) is an experience not to be missed. Melbourne is known as the sports hub of Australia, so be sure to catch a match in this lively atmosphere with another 100,000 fans!
+ B
Brighton Bathing Boxes
Welcome to Brighton Beach! Just outside of Melbourne's central business district is a beautiful stretch of beach adorned with a row of 82 uniquely bright beach boxes.
+ C
Chapel Street
Home to some of Melbourne's best shops, restaurants, bars and nigthclubs, Chapel Street is the ultimate entertainment precinct that spans three trendy suburbs - South Yarra, Prahran and Windsor.
+ D
Degraves Street
Melbourne is known for it's iconic laneways that house some of it's best restaurants, hidden bars and street art. Degraves Street is notable in its own right for its various cafes, shops and pedestrian walkway linking the city's fashion precinct with the famous Flinders Street Station.
+ E
Eureka Skydeck
Eureka Tower is a 297.3-metre skyscraper located in the Southbank precinct of Melbourne - the highest public vantage point in a building in the Southern Hemisphere. Take the lift 88 floors and get a view of Melbourne you'll have to see to believe.
+ F
Federation Square
Federation Square is a venue for arts, culture and public events on the edge of the the central business district of Melbourne. Check out the ACMI, the Ian Potter Centre or the various cafes and bars that overlook the Yarra River!
+ G
Grampians National Park
Grampians National Park is a nature reserve just a couple hours drive out of Melbourne. It's known for its sandstone mountains, wildflowers and wildlife like echidnas and wallabies. Trails lead to waterfalls like towering MacKenzie Falls and lookouts such as the Balconies, with views of the Victoria Range.
+ H
Hosier Lane
Melbourne's most celebrated laneway for street art, Hosier Lane's cobbled walk attracts quite the crowd, all looking for edgy graffiti and art installations that change almost daily.
+ I
International Comedy Festival
Every year, Melbourne International Comedy Festival brings this city endless laughs. From the stage of large venues to small pubs, shows take place all over the city for three and a half weeks. Catch some of the best comedians from all over the world!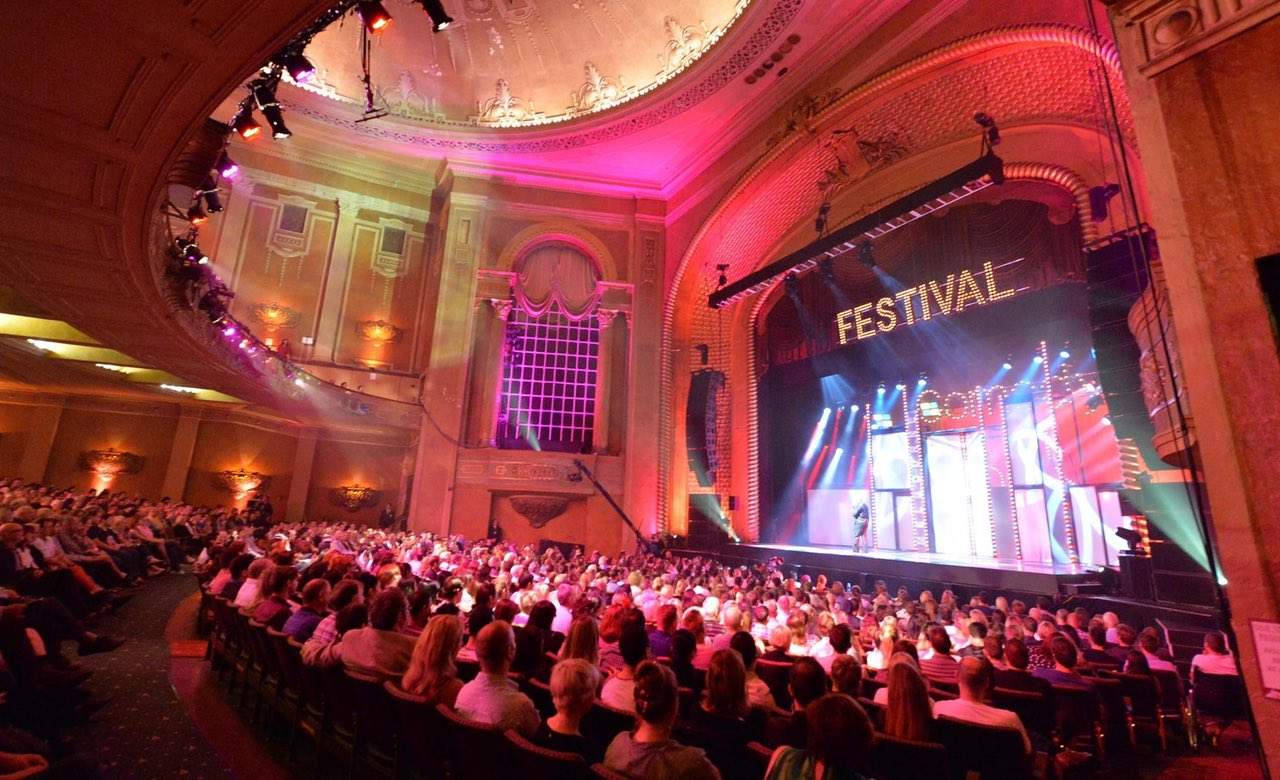 + J
Jazz at Rooks Return
Every Wednesday night, the Rookies pump out upbeat jazz through Rooks Return and all down Fitzroy's iconic Brunswick Street. Rooks Return may look unassuming from the outside, but you won't want to miss out on this 8-piece jazz emsemble.
+ K
Koala Conservation Centre
The Koala Conservation Centre's amazing tree top boardwalks and close viewing areas allow visitors to come face to face with these furry friends in Phillip Island.
+ L
Luna Park
Melbourne's Luna Park is a historic and iconic amusement park located on the foreshore of Port Phillip Bay in St Kilda. Great for a day out along the sunny beach!
+ M
Mornington Peninsula
Home to the Pillars, endless wineries and cellar doors, vast stretches of beach and colorful bathing boxes, Mornington Peninsula is a perfect respite from the busy city.
+ N
National Gallery Victoria
National Gallery Victoria, known as NGV, is Australia's oldest, largest and most visited art museum. NGV showcases some of the world's finest artwork, both classic and contemporary - and its free.
+ O
Australian Open
The Australian Open is a tennis tournament held annually over the last fortnight of January in Melbourne, Australia. Melbourne has turned it into an event for all, with pop-up stalls serving food and drinks and a live stage for some of Australia's hottest artists.
+ P
Phillip Island
Phillip Island, a popular day trip from Melbourne, lies just off Australia's southern coast. At Summerland Beach, spectators gather daily at sunset to watch the Penguin Parade, when Little penguins come ashore in groups.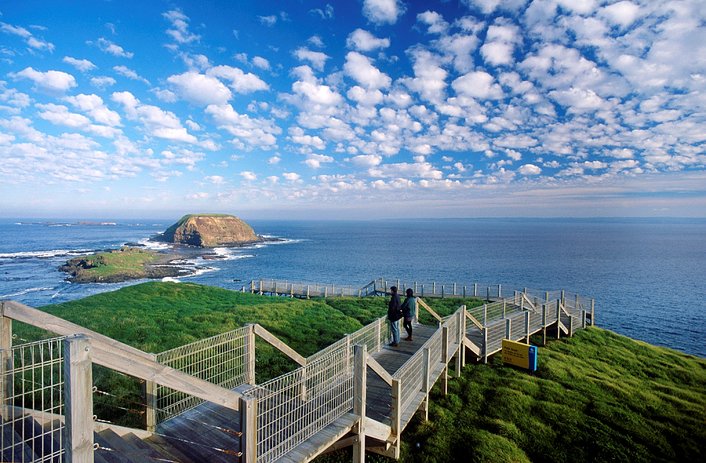 + Q
Queen Victoria Market
Queen Victoria Market is an authentic, bustling, inner-city market with over 700 small businesses. It's a great place to discover fresh and specialty produce, hand-made and unique products, great coffee and food, souvenirs and clothing. Check out Queen Vic Night Markets on Wednesday nights!
+ R
Royal Botanic Gardens
With breathtaking landscapes, rare and beautiful plants and iconic buildings, Melbourne's Royal Botanic Gardens give residents and tourists a solace from the busy city center. Relax with a picnic or stroll through the 36 hectares of greenery!
+ S
St. Kilda
In this beachside suburb, backpackers, families and joggers converge on the Esplanade, where yachts and windsurfers can be seen on the bay. Spot Luna Park nearby some of Melbourne's most notable bars and restuarants. Trafari travel tip: head to the pier at dusk to watch penguins come to shore for the night!
+ T
Twelve Apostles
The iconic golden cliffs and crumbling pillars of the Twelve Apostles can be found along your Great Ocean Road trip, just east of Port Campbell. Pro tip: the best photos are taken at sunrise and sunset!
+ U
Unpredictable Weather
Mocked for getting "all four season in one day," Melbourne sees some of the most eratic weather. Dress in layers and never leave home without an umbrella!
+ V
Vintage Shops
Noteable for it's trendy fashion scene, Melbourne has some of the best vintage shops you'll come across. Head straight down Brunswick's Sydney Road and you'll surely find statement pieces to write home about.
+ W
White Night
White Night is Melbourne's 12-hour festival of lights, projections, art and music. Be amazed by the colorful projections on the city's most noteable buildings.
+ X
X Base Backpackers
Located right in the heart of bustling St. Kilda, X Base Backpackers was rated by Lonely Planet's Blue Guide one of the top 10 Hippest Hostels in the world. With boozy bingo, trivia that gets loose and nightly parties, X Base is your home away from home.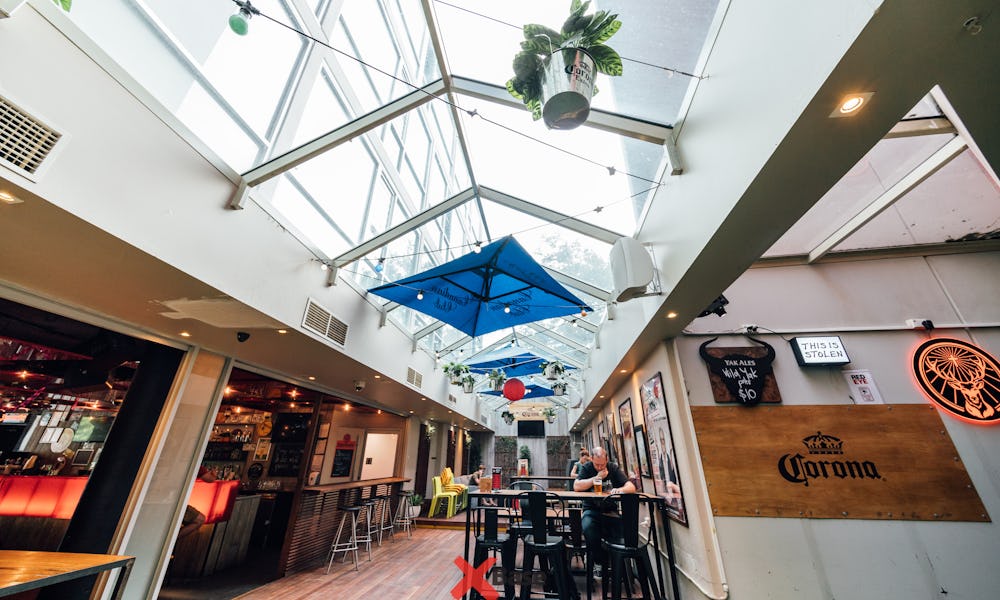 + Y
Yarra Valley
The Yarra Valley is the name given to the region surrounding the Yarra River in Victoria, starting about 90 kilometres east of the Melbourne central business district and flows towards it and out into Port Phillip Bay. Yarra Valley provides some of the countries best wineries - and be sure to check out the sunrise hot air balloons! You won't believe the views!
+ Z
Zoo Twilights
Melbourne Zoo puts on an annual summer concert series called Zoo Twilights. The concert series sees an incredible array of Australian and international musicians performing in Melbourne Zoo's world-class grounds.